DFA: No sign yet of Pinoys on Asiana flight that crashed in San Francisco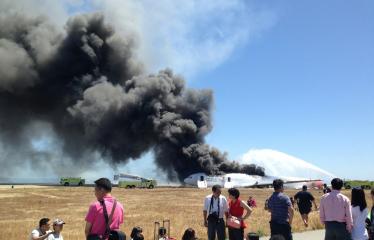 Asiana Airlines' Boeing 777 Flight 214 burns on airport runway. Evacuated passengers are seen on the tarmac as firefighting truck spray water on Asiana Airlines flight 214 as it sits on the runway burning at San Francisco International Airport in this July 6, 2013 picture taken by a passenger of the plane. The Asiana Airlines Boeing 777 with 307 people on board crashed and burst into flames as it landed at San Francisco International Airport after a flight from Seoul, killing two people and injuring more than 180. The two dead were both teenage female Chinese nationals who had been seated at the rear of the aircraft, according to government officials in Seoul and Asiana. Reuters
The Department of Foreign Affairs (DFA) said there were no signs yet that there were Filipinos or Filipino-Americans on board the ill-fated Asiana Airlines Boeing 777 plane that crashed at the San Francisco International Airport on Saturday.
"The Philippine Consulate General in San Francisco said that there were no reports of Filipino casualties in the Asiana plane crash so far," DFA spokesman Raul Hernandez told GMA News Online via text message on Tuesday.
In posts on its Twitter account on Tuesday, the Philippine Embassy in Washington said no Philippine passport holders were aboard the Asiana Air flight.
#Philippines Consulate also told no Filipino-sounding names among US passport holders on board Asiana Flight 214.

— Philippine Embassy (@philippinesusa) July 8, 2013
#Philippines Consulate General says no PH passport holders were on board Asiana Flight 213 that crashed in San Francisco on Saturday.

— Philippine Embassy (@philippinesusa) July 8, 2013
The Philippine Embassy earlier said there was no sign of Filipinos aboard the Asiana Airlines crash that killed at least two people.
However, at the time, the embassy said it was verifying if there could be foreign citizens of Filipino descent aboard the flight.
#Philippines Consulate also said Filipino-American Community not aware of any Filipino-American passenger on board Asiana Flight 214.

— Philippine Embassy (@philippinesusa) July 8, 2013
Flying low
Reuters news agency on Tuesday said Asiana Airlines Boeing 777 that crashed at San Francisco's international airport was flying 25 percent below its intended air speed before slamming into the ground, U.S. safety officials said on Monday as attention increasingly focused on the actions of the pilots.
All four pilots were being interviewed on Monday by investigators from the National Transportation Safety Board and other agencies, NTSB chairwoman Deborah Hersman said at a news conference in San Francisco. Saturday's crash killed two teenage Chinese passengers and injured more than 180 other people.
The pilot at the controls, Lee Kang-kuk, was still training on Boeing 777 jets, the South Korean airline said, and his supervisor was making his first flight as a trainer. Lee had 43 hours of experience flying the long-range jet, Asiana said.
It was not clear whether the senior pilot, Lee Jung-min, who had clocked 3,220 hours on a Boeing 777, had tried to take over to abort the landing.
"It's a training that is common in the global aviation industry. All responsibilities lie with the instructor captain," Yoon Young-doo, the president and CEO of the airline, said at a news conference on Monday at the company headquarters.
Lee, the pilot at the controls, was making his first attempt to land a 777 at San Francisco's airport, although he had flown there 29 times previously on other types of aircraft, said South Korean Transport Ministry official Choi Seung-youn. The ministry said Lee, who is in his mid-40s, had almost 10,000 flying hours.
The flight recorders corroborated witness accounts and an amateur video indicating the plane came in too low, lifted its nose in an attempt to gain altitude, and then bounced violently along the tarmac after the rear of the aircraft clipped a seawall at the approach to the runway.
The charred aircraft remained on the airport tarmac on Monday as investigators collected evidence even as flight operations gradually returned to normal.
Dramatic rescue
San Francisco police and fire officials, at an airport news conference, described a dramatic scene in the moments after the crash, with firefighters quickly putting out an initial blaze and clambering up escape slides to help evacuate passengers.
San Francisco police officer Jim Cunningham, who colleagues said raced onto the plane without any protective gear, described freeing passengers as fire began to engulf the aircraft.
The two dead girls, Ye Mengyuan and Wang Linjia, were friends from the Jiangshan Middle School in Quzhou, located in the prosperous eastern coastal province of Zhejiang.
They were among a group of 30 students and five teachers from the school on their way to attend a summer camp in the United States, the official Xinhua news agency said.
The Asiana flight from Seoul to San Francisco, with 16 crew and 291 passengers, included several large groups of Chinese students.
Ye, 16, had an easy smile, was an active member of the student council and had a passion for biology, the Beijing News reported. "Responsible, attentive, pretty, intelligent," were the words written about her on a recent school report, it said.
Wang, a year older than Ye, also was known as a good student and was head of her class, the newspaper said.
It was the first fatal accident involving the Boeing 777 since it entered service in 1995.
- with a report from Reuters, VVP, GMA News